Course details
☆ Premium Cheese Women's Association ☆ Raclette & Flower Field Ranch Cheese Panetchkin ♪ <180 minutes drinking> 【10 items 3300 yen】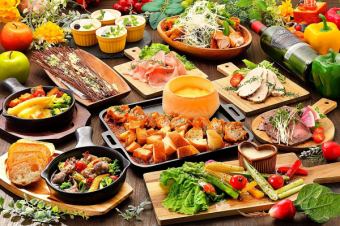 By using a coupon3300 yen
* The marked price is without tax.
All-you-can-drink available

All - you - can - drink A plan (basic course).S plan rank up 【+ 300 yen】
Reservation deadline

Until 23 o'clock the day before the store visit date
Available days for reservation

Monday - Sunday - Public holidays - Holidays
Popular menu sticking to cheese is gathered ☆ Homemade chicken ham, roast beef, raw ham and other meat can be enjoyed plentiful ♪ ♪ The 2 largest co-star of Panacekin instantly rising rapidly in popularity in the popular menu of Rakuto cheese of our shop ☆ Panchikin is a flower garden Using pasta cheese, it will extend to ♪ ☆ ☆ 180 minutes with all you can drink!
Course menu
【1】 Cheese cheese pasta frit
【2】 Today's antipast
【3】 Homemade chicken ham
【4】 Assorted roast beef
【5】 Healthy ham cut off
【6】 Raw vegetable salad of meat
【7】 Hokkaido vegetables and whimsical meat ahijo
【8】 Rakuto Cheese Meat Skillet Grill
【9】 Growth! Flower field ranch cheese Panetchkin
【10】 Dairy vanilla ice cream
■■ Course supplement ■■
○ Friday, Saturday, and the day before the congratulation, it will be a two-hour all-you-can-drink system.○ You can upgrade all you can drink menu with + 300 yen! 【S plan】
○ If you use a male customer, please understand that it will be + 1000 yen, 2 hour system.
○ Lo. 30 minutes ago
All-you-can-drink menu
· 【A plan】 ★ Beer ★
· Barley
· 【A Plan】 ★ High Ball ★
· High Ball / Ginger High Ball / Cork High Ball / White High Ball / Forest High Ball / Acerola High Ball
· 【A Plan】 ★ Cocktail ★
· 【Via Cocktail】 Chandigafu / Cork Beer / Bitter Orange / Blue Beer
· 【A Plan】 ★ Cocktail ★
· [Cassis] cassisfis, cassis orange, cassis grapefruit, cassis oolong, cassis tonic
· 【A Plan】 ★ Cocktail ★
· 【Peach】 Peach Fizz, Fuzzy Navel, Peach Grapefruit, Reggae Punch, Peach Tonic
· 【A Plan】 ★ Cocktail ★
· 【Lychee】 Litchfis, Litchi Orange, Lychee Grapefruit, Lychee Oolong, Lychetonic
· 【A Plan】 ★ Cocktail ★
· [Gin] Jin tonic, Jim Buck, Jin Ricky, Orange Blossom, Jin Lime
· 【A Plan】 ★ Cocktail ★
· [Vodka] Vodka Fizz / Vodka Tonic / Moscow Mule / Screwdriver / Bulldog
· 【A Plan】 ★ Wine ★
· Tavernello (red · white)
· 【A plan】 ★ Sour ★
· Lemon Sour / Lime Sour / Acerola Sour / GF Sour / Green Tea High / Olong Dye High / Strawberry Sour / Melon Sour / Blue Sour
· 【A Plan】 ★ Plum wine · Shochu ★
· Why not take plum wine / wheat shochu / sweet distilled spirit
· 【A Plan】 ★ Soft drink ★
· Coke / ginger / orange / grapefruit juice / oolong tea / green tea / tonic water / acerola juice (soda)
· 【S plan】 ☆ draft beer ☆
· Premium Malt fragrant ale / All Free bottle
· 【S Plan】 ☆ Sparkling ☆
· Barrel sparkling
· 【S Plan】 ☆ Wine · Wine Cocktail ☆
· Carlos Rossi (red · white) / Kitty / Carimocho / Operator / Splitzer / Kiel Royale, Mimo
· 【S plan】 ☆ cocktail ☆
· Kalua milk / Black Lucian / Kalua soda / Kalua oolong
· 【S plan】 ☆ plum wine ☆
· Yuzu plum wine / Rose plum wine
· 【S plan】 ☆ Non alcoholic cocktail ☆
· Saratoga cooler / cable gram / lemon soda / strawberry soda / melon soda /
· 【S Plan】 ☆ High Ball ☆
· Various gym beams
2018/11/30 update