Course details
"Standard" Flower field ranch cheese cheese Taccarbie <120 minutes all you can drink> 【6 items 3000 yen】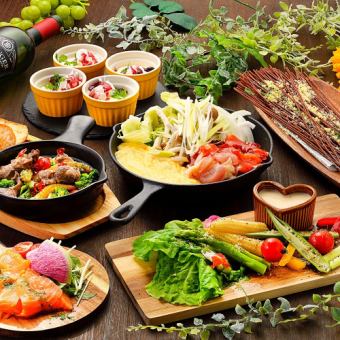 By using a coupon3000 yen
* The marked price is without tax.
All-you-can-drink available

All - you - can - drink A plan (basic course).S plan rank up 【+ 300 yen】
Reservation deadline

Until 23 o'clock the day before the store visit date
Available days for reservation

Monday - Sunday - Public holidays - Holidays
Volume perfect party course ♪ Of course also at the girls' party and birthday party ◎ Growth using plenty of cheese at flower garden ranch ~ Cheese Taccarbie is instant shine ◎ ☆ Dessert is ice cream of berry cheese and satisfaction No.1 ☆ 120 minutes It is perfect for a welcome party with an all you can drink !!
Course menu
◇ Crispy pasta frit
◇ Capricious antipast platter
◇ Marinated Italian salmon
◇ Growing flower garden ranch Cheese cheese Taccarbie
◇ A beef assortment of beef
◇ Berry cheese ice cream
■■ Course supplement ■■
○ You can upgrade all you can drink menu with + 300 yen! 【S plan】
○ Lo. 30 minutes ago
All-you-can-drink menu
· 【A plan】 ★ Beer ★
· Barley
· 【A Plan】 ★ High Ball ★
· High Ball / Ginger High Ball / Cork High Ball / White High Ball / Forest High Ball / Acerola High Ball
· 【A Plan】 ★ Cocktail ★
· 【Via Cocktail】 Chandigafu / Cork Beer / Bitter Orange / Blue Beer
· 【A Plan】 ★ Cocktail ★
· [Cassis] cassisfis, cassis orange, cassis grapefruit, cassis oolong, cassis tonic
· 【A Plan】 ★ Cocktail ★
· 【Peach】 Peach Fizz, Fuzzy Navel, Peach Grapefruit, Reggae Punch, Peach Tonic
· 【A Plan】 ★ Cocktail ★
· 【Lychee】 Litchfis, Litchi Orange, Lychee Grapefruit, Lychee Oolong, Lychetonic
· 【A Plan】 ★ Cocktail ★
· [Gin] Jin tonic, Jim Buck, Jin Ricky, Orange Blossom, Jin Lime
· 【A Plan】 ★ Cocktail ★
· [Vodka] Vodka Fizz / Vodka Tonic / Moscow Mule / Screwdriver / Bulldog
· 【A Plan】 ★ Wine ★
· Tavernello (red · white)
· 【A plan】 ★ Sour ★
· Lemon Sour / Lime Sour / Acerola Sour / GF Sour / Green Tea High / Olong Dye High / Strawberry Sour / Melon Sour / Blue Sour
· 【A Plan】 ★ Plum wine · Shochu ★
· Why not take plum wine / wheat shochu / sweet distilled spirit
· 【A Plan】 ★ Soft drink ★
· Coke / ginger / orange / grapefruit juice / oolong tea / green tea / tonic water / acerola juice (soda)
· 【S plan】 ☆ draft beer ☆
· Premium Malt fragrant ale / All Free bottle
· 【S Plan】 ☆ Sparkling ☆
· Barrel sparkling
· 【S Plan】 ☆ Wine · Wine Cocktail ☆
· Carlos Rossi (red · white) / Kitty / Carimocho / Operator / Splitzer / Kiel Royale, Mimo
· 【S plan】 ☆ cocktail ☆
· Kalua milk / Black Lucian / Kalua soda / Kalua oolong
· 【S plan】 ☆ plum wine ☆
· Yuzu plum wine / Rose plum wine
· 【S plan】 ☆ Non alcoholic cocktail ☆
· Saratoga cooler / cable gram / lemon soda / strawberry soda / melon soda /
· 【S Plan】 ☆ High Ball ☆
· Various gym beams
2018/11/30 update